Firearms are an ideal item for you to pawn because they hold their value over time. You can get a fair amount of money by pawning just one or two guns. Plus, because most people store their guns in a safe for the majority of the year, pawning them for a month will not cause them to be missed for the duration of the loan period. While pawning firearms is a quick and easy process, there are a few things you'll want to keep in mind.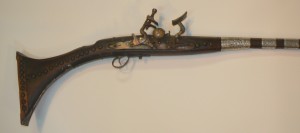 The first thing you'll need to do to pawn firearms is to stop by your local pawn shop for an appraisal. You will then be offered an appraisal based on the value of the firearms according to the current market. At this time, you can either choose to accept the appraisal and pawn your firearms or pass. If you accept the appraisal, you will need to agree to the terms of the pawn loan and you'll walk out with cash in hand.
Reclaiming Pawned Firearms
When the time comes to reclaim your firearms, you will simply return and pay off your pawn loan. Before you are able to reclaim your firearms, you will need to pass a background check and meet any other requirements based on the laws in your area. Once you've met all of the requirements based on your local laws, you will be able to reclaim your firearms.
If you choose not to reclaim your firearms at the the end of your pawn loan, you can simply allow the loan to expire. At this time, the pawn shop will take ownership of the firearms. Don't worry though, there will be no hard feelings and allowing your loan to expire will not affect your relationship with the pawn shop as a customer. You'll be welcome to come in any time for another pawn loan. Pawn shops understand that life circumstances can sometimes change.
If you are unable to pay off your pawn loan in the specified period of time and you want to reclaim your firearms, you can obtain a loan extension. This will come with a monthly fee, however, it will give you more time to pay off your loan and reclaim your firearms. This is particularly helpful if your firearms are heirlooms or hold other sentimental value that would make it difficult to part with them.
As you can see, pawning a firearm is a quick and easy process. It is a great option when you are in need of money. If you need some extra cash, contact your local pawn shop today and see what your firearms may be worth. You really have nothing to lose.