Ex-cop turned shop owner
shares pawn stories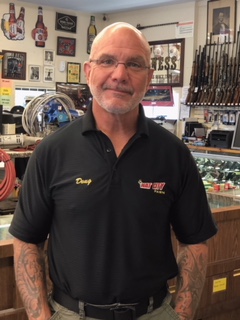 DANBURY– During his 10 years as a Waterbury police officer, Doug Mineo spent a fair amount of time in pawn shops and realized that business "fills a niche in society," providing small, short-term loans that help people through tough times.
So when a bum knee forced the 50-year-old Plymouth resident into retirement a few years ago, opening a pawn shop seemed like a good idea.
"When somebody needs $50 to get them through the week, they can't go to the bank for a loan," said Mineo, who owns Hat City Pawn on Federal Road.
But they may have something of value — a laptop, tools, a camera or video games — that can serve as collateral so they can borrow a few bucks until their situation improves, he said.
"I had a vision of a shop based on honesty and integrity. If you're going to do business in a community, you build it by doing the right thing," Mineo said.
Pawn shops may be considered seedy and disreputable by some, he said, but in the year he has been in business he has collected a stack of letters from customers praising him for living up to his values.
One satisfied customer is Lenny Engelman, of Danbury, who a few months ago walked into Hat City Pawn with some of his wife's old gold jewelry and a two large, silver-colored coins inherited from his father-in-law.
Mineo said he was concentrating mainly on the gold and only gave the coins a quick glance. "I thought they were Eagles," he said, referring to the one-ounce, silver bullion coins issued by the U.S. government. He paid Engelman $20 apiece for them.
"He called me back the next day," Engelman said, "and he told me it was worth a couple of bucks more, so he asked me to come by the shop the next day so he could settle up."
Assuming that the difference was only a few dollars, Engelman didn't return immediately, so Mineo called him again the following day.
This time when Engelman went to the shop, he was surprised that Mineo counted out 10 $100 bills and placed them in his hand.
He said, `I didn't realize the coin was platinum,'" Engelman said. "He could have sold it for $1,200, and I would be none the wiser. But in this day and age, it was nice to meet someone who did the right thing."
Other letters — with copies sent to the Police Department, which monitors the operations of all the pawn shops in the city — describe how Mineo helped the writers recover items that had gone missing from their homes.
In one, a Brookfield man recounts how Mineo returned two expensive guitars that had been taken in a burglary.
The man visited area pawn shops after discovering the theft and provided the staff with descriptions of a Les Paul guitar with a broken toggle switch and a brand-new red Fender bass.
So Mineo was prepared when two teenagers walked into his shop and tried to sell the instruments. After opening the first case and finding the Les Paul, Mineo placed it behind the counter and waited as one of the teens placed the second case in front of him, unopened.
"I said, `This must be the red Fender bass.' You should have seen their faces," he laughed. '
Mineo kicked them out of the store with a stern lecture, and they were later arrested by police. But the bottom line, he said, was the guitars ended up with their rightful owner.
Contact John Pirro at jpirro@newstimes.com or 203-731-3342.